戦国BASARA弐
Sengoku BASARA Samurai Kings 2
Release Date:
July 11th, 2010
Genre:
Action, Comedy
Director:
Itsuro Kawasaki
Writer:
Yasuyuki Muto
Studio:
Production I.G.
Network:
MBS, Animax
Original Run:
July 11th, 2010 – September 26th, 2010
Episodes:
12 + 1 OVA
Sengoku BASARA Two (戦国BASARA弐 Sengoku BASARA Nii) is the second season of Sengoku BASARA (anime), announced at the conclusion of the season finale episode aired in Japan. At Anime Expo 2009, Funimation Entertainment announced that it acquired the first season.
The second season witnesses the emergence of Toyotomi Hideyoshi as the next potential unifier of the land, though unlike in actual history he seems to have no connection to Nobunaga, whose retainers were almost entirely wiped out along with him by the end of the first season.
Opening Theme Song: "SWORD SUMMIT" by T.M.Revolution
Ending Theme Song: "El Dorado" by Angelo
Ending Theme Song 2: "Fate' by Angelo

Sengoku BASARA
Games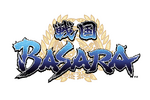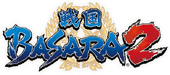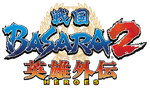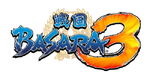 Series
Anime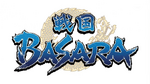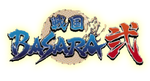 Film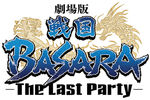 Live-Action

Characters
Sengoku BASARA
Date Masamune • Sanada Yukimura • Oda Nobunaga • Nōhime • Uesugi Kenshin • Takeda Shingen • Itsuki • Xavi • Mori Ranmaru • Akechi Mitsuhide • Kasuga • Maeda Toshiie • Matsu • Sarutobi Sasuke • Shimazu Yoshihiro • Honda Tadakatsu
Sengoku BASARA 2
Maeda Keiji • Chōsokabe Motochika • Mōri Motonari • Toyotomi Hideyoshi • Takenaka Hanbei • Miyamoto Musashi
Sengoku BASARA 2 Heroes
Katakura Kojūrō • Azai Nagamasa • Oichi • Fūma Kotarō • Hōjō Ujimasa • Tokugawa Ieyasu • Honganji Kennyo • Imagawa Yoshimoto
Sengoku BASARA 3
Ishida Mitsunari • Ōtani Yoshitsugu • Saika Magoichi • Kuroda Kanbei • Tsuruhime
Sengoku BASARA 3 Utage
Matsunaga Hisahide • Kobayakawa Hideaki • Tenkai • Mogami Yoshiaki • Tachibana Muneshige • Ōtomo Sōrin
Sengoku BASARA 4
Shima Sakon • Shibata Katsuie • Yamanaka Shikanosuke • Gotō Matabei • Ii Naotora
Sengoku BASARA 4 Sumeragi
Ashikaga Yoshiteru • Kyōgoku Maria • Sen no Rikyū
Sengoku BASARA Sanada Yukimura-den
Sanada Masayuki • Sanada Nobuyuki
Area Warlords
Nanbu Harumasa • Satake Yoshishige • Utsunomiya Hirotsuna • Anegakōji Yoritsuna • Amago Haruhisa
Other Characters
Gohonyari • Naoe Kanetsugu • Miyoshi Trio
Sengoku BASARA Judge End
Sakai Tadatsugu • Isono Kazumasa